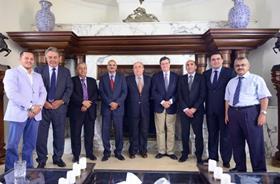 The Chilean Fruit Exporters Associaiton (Asoex) has announced in a press release the signing of a commercial and technological agreement with the Association of Fruit and Vegetable Producters and Exporters of Morocco (Apefel).
The deal was signed yesterday (3 September) by Asoex president Ronald Bown and his Apefel counterpart, Lahoucine Adardour, at a ceremony which was attended by Morocco's vice-minister of agriculture and the Chilean ambassador to Morocco, as well as Apefel's secretary general and directors from various divisions of the Moroccan Ministry of Agriculture.
Asoex said Morocco offers an important platform for Chilean fruit exporters to expand in north Africa particularly in view of the South American nation's complementary supply season.
"This agreement is the result of more than two years of work and marks great importance for the Chilean fruit sector given that Morocco offers a very good platform for our products to enter north Africa," Bown explained.
"Moreover, it allows us to advance and deepen the commercial relationships between both countries who complement each other well given our opposite seasons."
Under the agreement, Asoex and Apefel will interchange information about both sectors and provide support for trade missions and exploratory visits, as well as sharing experience in technical and technological areas, among other aspects.
Following the ceremony, Chilean ambassador to Morocco, Carlos Charme, indicated that the deal marks a "very good sign" towards the establishment of a Free Trade Agreement (FTA) between Chile and Morocco, for which initial negotiations have already begun.
In order to succeed on the Moroccan market, Asoex pointed out that the two nations need to put in place a phytosanitary protocol to facilitate Chilean fruit exports, as well as finalise an FTA deal to reduce Morocco's high import tariffs.