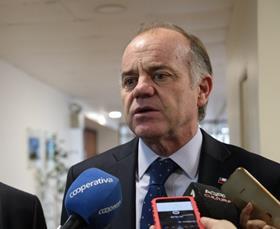 Chile has launched a paperless phytosanitary certification for fruit exports to the US to cut costs and make the export process more efficient.
Under the new system, plant-based products traded between the two countries will require just an electronic certificate to enter the market from now on.
Around 35 per cent of Chilean fresh fruit exports are destined for the US.
Announcing the move, Chilean Agriculture Minister Antonio Walker said: "The development and implementation of electronic certification between the Agricultural and Livestock Service (SAG) and the Animal and Plant Health Inspection Service (APHIS) is great news, especially at this time when we need to facilitate international trade, apply technological tools to simplify these exchanges and offer solutions to our producers".
In 2019 Chile exported 871,880 tonnes of fruit to the US, table grapes, citrus, apples and blueberries being the main products sold.