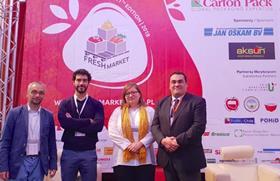 Chile is seeking to increase its presence in the Polish market as it continues it push into Eastern Europe.
For the first time, the Chilean fruit industry took part in one of the most important fruit and vegetable fairs in Poland, Fresh Market Poland.
During the event, ProChile and Asoex held meetings with some of the country's leading retailers.
"Although this is a small fair compared with Fruit Logistica, it allows us to be present in a very specialised niche within the fruit and vegetable sector, and is a very good opportunity to plan promotional actions for Chilean fruit, especially for our blueberries, kiwifruit and table grapes," said Asoex's Charif Christian Carvajal.
"We have met with the main supermarket chains, such as Biedronka, to see the possibility of promoting our products in their stores.
"This chain of supermarkets has a strategy of direct import of fruits from Chile, therefore, It affords us the possibility to plan promotional actions, because they already know about the quality and safety of our products."
According to Asoex's Expordata, Chile made shipments to Poland, during 2017/18, of 572,154 cartons of fruit, which was 26 per cent more than what was sent last season. Two-thirds of this was made up of table grapes, with plums, pears, apples, lemons, kiwis, and pomegranates accounting for the remainder of shipments.