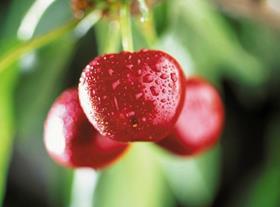 Chile experienced one of its most challenging cherry campaigns this past season, according to Cristián Tagle, president of the Chilean Cherry Committee. However, the sector's rapid development means that Chilean exporters are well placed to take advantage of the fruit's undoubted promise on overseas markets. And that promise is currently strongest in East Asia.
Just 12 years ago, less than 20 per cent of Chilean cherry exports went to this market, the main recipient being North America with 45 per cent. Today, a sizeable 80 per cent goes to Asia, with less than 15 per cent heading to North America.
"Last season, the Chinese market took 2,800 containers," said Tagle. "This season that figure grew by 60 per cent to around 4,300 containers. This was a big increase and therefore a huge challenge."
Part of the challenge, of course, is in transporting one of the most delicate fruits of all to a market such as China, located around 30-35 shipping days away.
"The varieties are chosen according to their ability to travel," confirmed Tagle. "The cherries are picked when they are ready, always early in the morning, and then cooled on or very near the farm, no more than two hours after picking. If this is not achieved, the chances of reaching East Asia in good condition are reduced."
The quality of the fruit upon leaving Chile is crucial, and huge developments in handling, sorting and packing have improved the country's chances of reaching far-off markets immeasurably.
"On the old packing lines, dry cherries used to travel along on conveyor belts," said Tagle. "Now they flow along on water, which avoids damaging the fruit and allows greater volumes to be sorted. Today's machines also enable efficient cooling and accurate sizing, colour segmentation and defect sorting.
"Cherries are extremely delicate, but the technology has been progressing fast. We jumped from being able to handle 100 tonnes to 400 tonnes per hour on one cherry line. Instead of having one line run by 100 people, you can have something like one and a half lines with the same 100. This has taken a lot of investment."
Efforts to protect cherries from unfavourable weather conditions are also costly. Automatic plastic covers to protect the fruit from hail and rain can cost US$20,000 per hectare. If fans are also used to limit the impact of frost, then one fan every 6-7ha is needed, requiring a further significant outlay.
However, the returns are there for those able to offer sufficiently high quality.
"Just four years ago, you could ship whatever quality you wanted, and there was always a market," said Tagle. "Not any more. The market cannot absorb all these volumes, so quality is becoming vital. This season, everyone in the industry has learned a lot. No one will ship borderline quality any more for fear of losing the market."
Difficulties experienced on the Russian market have further enhanced the importance of China for Chilean exporters. "For us, Russia has always been risky in terms of demand and payments," said Tagel. "In the last two seasons, exporters in Chile have realised they can send to China instead for the same price and actually get paid. Currency issues and the political situation in Russia have also not helped."