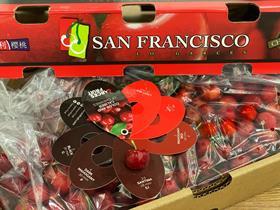 Chile exported 1.5m tonnes of fresh fruit with a value of US$2.975bn FOB between January and May of this year, according to the Office of Agricultural Policy Studies (Odepa). This was a fall of 8 per cent in volume and 17 per cent in value compared with the same period of 2019.
The figures, reported in PortalPortuario, showed that once again grapes were the main product shipped, with exports totalling 595,000 tonnes worth US$917m FOB. This was a fall of 7 per cent in volume and 25 per cent in value year-on-year. The US and China were the two biggest markets, taking 42 per cent and 20 per cent of the export volume respectively.
Cherries were second, with shipments climbing 6 per cent in volume to 145,000 tonnes but falling 15 per cent in value to US$867.5m. China absorbed 94 per cent of shipments.
They were followed by blueberries, which fell 3 per cent in volume and 1 per cent in value in relation to 2019, reaching 84,400 tonnes and US$418m. The US took 46 per cent of this, followed by the Netherlands on 19 per cent. Together, these three products made up 74 per cent of the total value of fresh fruit exported in the period analysed.
Dried fruit exports for the first five months of the year totalled 21,800 tonnes worth US$100m. Compared with the same period in 2019, this represented a decrease of 44 per cent in volume and 35 per cent in value.
Representing about one-third of the volume in this category were whole walnuts, with shipments reaching 12,000 tonnes worth US$33.6m. The main destination was Morocco (33 per cent).