With cold stores filling up and fruit unable to get to ports, Asoex and Fedefruta are calling for all remaining unions to end their walkout
A week-long strike by Chilean truckers in protest of high fuel prices has been partially lifted after some of the unions involved reached an agreement with the government.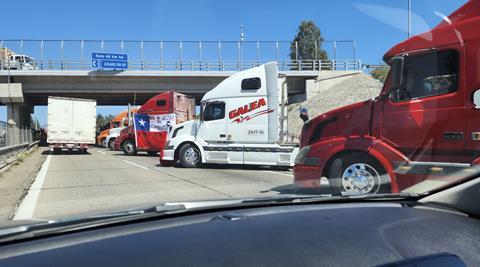 Following several days of talks, the National Confederation of Cargo Transport (CNTC) and Federation of Truck Owners of the Valparaíso region (FedeQuinta) agreed to end the walkout that has blocked routes in various parts of the country, preventing fruit from reaching ports.
However, the agreement does not have the support of the Confederation of Transporters Fuerza del Norte, which called the strike, or the South Central Truckers Confederation.
Fedefruta president Jorge Valenzuela welcomed the CNTC and FedeQuinta's decision to call of the strike. However, he noted that "the fruit, vegetable and food production system has already collapsed, and refrigerated containers still cannot be removed from the ports".
Valenzuela said with the ports of the Valparaíso Region still blocked, "for every cherry that must be shipped and does not arrive at the terminal, there are another five that are waiting to be harvested in the fields".
He warned that the 8,000+ containers due to be shipped this week remained in danger for as long as the strike continues.
On Saturday, Asoex president Iván Marambio told Portual Portuario that producers would have no other option than to stop harvesting their fruit if the stoppage continues, damaging the industry and threatening the jobs of around 200,000 fruit pickers.
"The Cherry Express service vessel Wan Hai left with 50 per cent of its planned cargo of cherries, as the fruit could not get through to the port to be shipped," Marambio said.
He warned that the situation had become critical as coldstores were full, and unless the conflict was resolved quickly losses would run into the millions of dollars.
Marambio urged the truckers still on strike to end their action immediately. He said it was unfair for striking groups to use the fruit industry "as bait to achieve their goals".