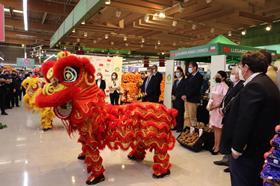 Asoex organised a special event last week to mark the first arrival of the year of Chinese kiwifruit in Chile.
The ceremony, which was held at the Líder supermarket in Buenaventura, was attended by various dignitaries including José Ignacio Pinochet, the undersecretary of agriculture, and China's ambassador to Chile Niu Quingbao.
Around 393 tonnes of green and red kiwifruit have been imported from China so far this season.
The first ever consignment of Chinese kiwifruit was sent to Chile in 2020 following the signing of the protocol the previous year. According to Chiinese media reports, it was shipped by Shaanxi Qifeng Fruit Industry Co Ltd, which became the first exporter to obtain export approval for its Chinese-grown kiwifruit in March 2020.
Asoex president Ronald Bown commented: "This not only shows the good relations that exist between China and Chile, but also the importance of Free Trade Agreements, without which we would not be able to have Chinese kiwifruit in Chile or ship our kiwifruit to China".
China is the world's biggest producer and consumer of kiwifruit. According to the FAO, it accounts for 2.2m tonnes of the 4.35m tonnes grown globally each year and consumes around 2.31m tonnes every year.
Francisco Núñez, commercial manager fresh and frozen category at Walmart Chile, which owns the Líder banner, said: "The arrival of the first shipment of kiwifruit of the year from China is the best example of how we constantly adapt to the requirements, needs and tastes of our customers.
"This year we plan to offer 80 per cent more fruits and vegetables in all our formats – both physical and online – which will be imported directly by Walmart Chile through instances such as the one we are concretising today with Asoex, the SAG and the Chinese Embassy".
Núñez contined: "As a company, we are also interested in enhancing the export capacity of our suppliers, supplying our locations around the world with high-quality Chilean products'.