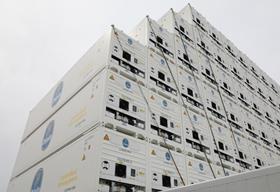 Chiquita has announced that it is further bolstering its fleet of Star Cool Integrated containers from Maersk Container Line (MCI) and adding more controlled atmosphere systems to deliver premium banana quality.
The new batch of 2,500 Star Cool Integrated containers will be deployed across Chiquita Brands International's shipping services, with 1,000 of these equipped with MCI's Star Cool CA system, which effectively preserves the freshness of bananas during transit.
By controlling the ripening, Star Cool CA ensures an extended transportation window of up to 45 days and the arrival of the produce in perfect condition for a prolonged shelf life in the supermarkets.
Chiquita is both a leading producer of bananas and an operator of its own substantial shipping fleet through the premier ocean carrier, Great White Fleet Ltd, whose president Stefano Di Paolo said: "From shipment to shipment, each load can be carefully controlled based on the needs of the cargo. This is essential to deliver best quality bananas to our customers and allows for a transportation window of up to 45 days. The CA technology is robust, effective and easy to control based on each individual shipment."
The Star Cool CA concept ensures safe operation and fast oxygen pull down, reducing the speed of the ripening to a minimum, allowing for extended travel distances, optimal freshness and longer shelf life without using supplementary third-party solutions.
"We are very proud that Chiquita has once again selected Star Cool containers to optimise its fruit logistics and help deliver high-quality bananas to the consumers," noted Søren Leth Johannsen, chief commercial officer, MCI. "When you say Chiquita, you think bananas, a challenging fruit to transport over longer distances. Therefore, we're very pleased that Chiquita has found first-hand that Star Cool CA is a robust and reliable solution for banana shipping."