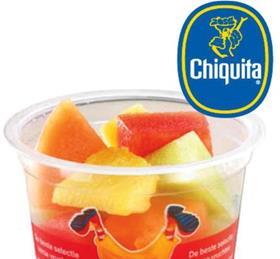 The European division of fresh produce giant Chiquita has launched a range of fresh fruit mixes in Belgium and the Netherlands, and has in the process adopted packaging designed by RPC Bebo Nederland.
As part of the project, Chiquita sought a robust packaging solution that was both attractive and convenient, RPC said, with the group selecting RPC Bebo's packaging for its ability to combine fast response times with extensive decorative options.
The 180 cc containers used for the products are thermoformed in PP, offering a wide 76mm diameter to enable ease of consumption direct from the bowl. The lid of the fruit pots features an integral fork, supplied by Auslid.
'RPC Bebo Nederland has provided an outstanding solution that captures consumers' imaginations with strong aesthetic appeal and a convenient, ready-to-eat format,' said Dan Vetters of Chiquita.
In addition to the initial release, Chiquita is also supplying two seasonal fruit mixes exclusively to McDonald's Netherlands to provide a healthy dessert option for happy meals, with further roll outs slated for Germany and France.