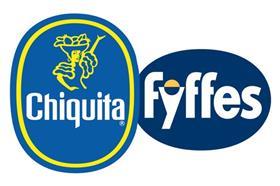 Chiquita and Fyffes have announced that they have received clearance from the European Commission for their proposed merger transaction, regulatory clearance that the groups said marked an important step toward the completion of the combination, which has been 'unanimously approved by the boards of directors of both companies'.
"This regulatory clearance represents a significant milestone for our proposed transaction to create the number one banana company globally," said Ed Lonergan, Chiquita's CEO, and David McCann, Fyffes executive chairman, in a joint statement. "We have worked closely with the European Commission to address any concerns, and today's decision reaffirms our confidence that the combination of Chiquita and Fyffes is a natural strategic partnership, one that is now assured of a clear timeline to completion before the end of the year."
As previously announced on 16 September 2014, Chiquita and Fyffes proposed limited commitments to the EC to facilitate obtaining clearance of the combination by the EC in its Phase I review period.
These commitments, which involve an agreement to eliminate any current or future exclusivity in shipping arrangements to northern Europe with third-party shipping providers, impose no pre-closing requirements and are expected to have no material impact on the strategic rationale, commercial value or synergy opportunities of the transaction.
The proposed combination has now received all necessary regulatory approvals, but remains subject to approval by Fyffes and Chiquita shareholders, respectively, and by the High Court of Ireland.
As previously announced, the Special Meeting of Chiquita Shareholders that had been scheduled for 3 October 2014, to consider the combination, is being adjourned to 24 October 2014.