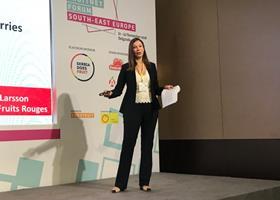 Collaborative working is giving growers across central and southern Europe the opportunity to access new markets both within the EU and beyond.
At the Fruitnet Forum South-East Europe in Belgrade this week, Sanja Larsson of Pureberry Fruits Rouges and Dominika Kozarzewska of Polskie Jagody outlined how working together has allowed their businesses to expand their production and export potential.
Kozarzewska explained how her business grew by collaborating with other growers. First it joined with two other producer organisations to form the Polish Berry Cooperative, which she said allowed it to offer customers stable, consistent supply of blueberries and launch the Berry Good brand to combat the commoditisation of the soft-fruit category. "We don't see the brand as a label, but as a proof of quality standard," she said.
The group then doubled down by coming together with companies in Spain, Portugal and Croatia to create the European Berry Growers, which, thanks to its farm in South Africa, allows it to supply year round.
Its increasing level of collaboration has meant the business has grown from just a few hectares of production in 1977 to over 1,000ha now, with a proposition that is focused on quality and the fact that its blueberries are pre-cooled within 30 minutes of picking.
Meanwhile Larsson stressed that collaboration could provide the path for smaller growers in Serbia to access international markets. Pointing out that currently in Serbia there are over six million hectares of agricultural land, of which some 35,000 is under berry production, she said the berry industry in the country is suffering from a lack of covered production and consequently unreliable supply.
"Serbia can definitely produce tasty berries but long shelf life is needed," she said.
However a number of challenges remain, not least a lack of information sharing among producers and inefficient marketing channels, in which there are large numbers of intermediaries.
The solution could come from more collaborative working. An association of berry producers called Serbia Does Berriesis currently being established, with support from USAID, to promote the country's soft fruit and give growers the opportunity to come together and market their produce.