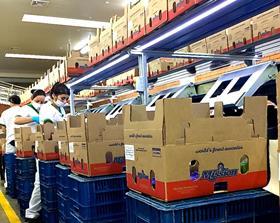 Mission Produce and its Colombian partner Cartama have sent the first direct shipment of Colombian avocados to the US.
Loaded onto vessels at the Port of Cartagena late last week, the consignment is scheduled to arrive in Florida today (6 November).
Once the shipment clears inspections it will be moved directly to Mission's Atlanta forward distribution centre for further inspection before being delivered to the final customer.
Mission's CEO Steve Barnard said the opening of Colombia would have a positive impact on the US market.
"Our customers expect us to be pioneers in the global avocado supply chain," Barnard explained. "Our involvement in Colombia extends Mission's footprint to yet another country, and enhances our ability serve our customers as this category continues to boom globally."
The fruit for the first arrival was grown by Hasspacol, and packed at Cartama's facility in Pereira, under the Mission and Hasspacol label.
"I'm proud to be the first Colombian grower to supply the US market. Proud for my company, my team and my country. We know we have high-quality fruit, and now everyone else will know," said Jose Luis Gonzalez, commercial director of Hasspacol.
To mark the first shipment, a ceremony was held at the Port of Cartagena on Thursday (2 November). In attendance were Colombian avocado growers and packers, Colombian secretary of agriculture Juan Guillermo Zuluaga, and Instituto Colombiano Agropecuario (ICA) officials, while Juan Manuel Santos, president of Colombia, delivered a special message.
"ICA is Colombia's agriculture and food safety authority, and has been instrumental in developing the phytosanitary requirements for export to the U.S.," said Cartama's CEO Ricardo Uribe. "We worked closely with Emilio Arevalo, the Technical Director at ICA, and with APHIS, in assuring that the strict requirements of the export protocol were met and that all future farms adhere to this protocol."
Brent Scattini, Mission's vice president of sales and marketing, indicated that there was strong interest in Colombian fruit from a retailer perspective.
"Since the announcement about Colombia being allowed into the US, we've had customers asking about it, and several wanting to be the first to receive the fruit,' he said. 'We expect volume to build throughout the season, as well as in years to come. Having an additional source, another option, is good for our customer base."