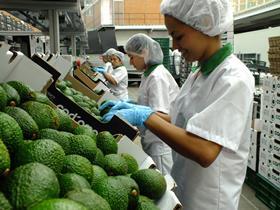 Colombia was the leading supplier of avocados to the European market at the beginning of this year, according to the Centre for International Cooperation in Agronomic Research for Development (Cirad).
As of the beginning of February, Colombian Hass avocados accounted for 30 per cent of total European supply.
Cirad said overall volumes were down due to a number of factors, including Mexican shippers prioritising the US market ahead of the Super Bowl, the sharp fall in Chilean exports due to the ongoing drought, and lower volumes from Spain and Israel.
Welcoming the historic milestone, Flavia Santoro, president of trade promotion agency ProColombia, said "avocado continues to position itself as one of the main milestones in the agro-export basket, thanks to its flavour, quality and sustainability".
Santoro added that the government would continue to help exporters expand their presence in other markets such as the US and Asia, where the are opportunities for double-digit growth.
Colombia produces avocados year round, but it enjoys a commercial advantage in Europe in the January-March and August-September windows when production from other suppliers is at its lowest.
Between January and November 2020, avocado exports from Colombia grew 50 per cent to US$124m compared with the year-earlier period. Around 80 per cent of this was shipped to Europe.