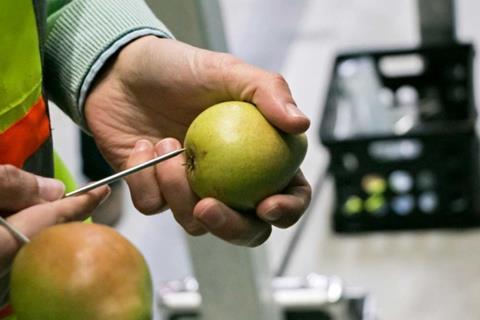 A 2012 study undertaken by Nielson/Perishables group and commissioned by the Pear Bureau Northwest found that stores in the US and Canada that carry conditioned pears saw an increase in sales of 19.5 per cent compared to stores that didn't.
Further to this, pear sales across fruit stores that stocked the conditioned fruit continued to increase after the 12-week study was completed.
Conditioned pears are described by Pear Bureau Northwest as pears that have been brought to a state where they are just starting to ripen.
This is achieved through the application of ethylene, a natural plant hormone produced by fruit as it ripens.
For this to occur in pears, the fruit is placed in a ripening room, warmed to room temperature, then treated with ethylene. Once the desired firmness is reached, the temperature is rapidly reduced to 0° celcius.
The process takes into consideration the time of ethylene application, pulp temperature, humidity, and CO2 levels.
Pear conditioning is not a new approach, according to Kevin Moffitt, president & chief executive of Pear Bureau Northwest.
"We have been promoting (conditioning) to shippers and retailers since the mid 1990's. There are currently 49 retailers in the US and Canada who carry conditioned pears," said Moffitt.
Greg Akins, president & chief executive of Catalytic Generators, the company that invented and patented the ethylene ripening rooms, said the days of rock-hard pears at local grocery stores are over.
"Nowadays, customers expect uniformly ripe, ready to eat pears, and that's what our ethylene generators help to provide," said Akins.
Pear Bureau Northwest estimated 30 per cent of the conventional green Anjou pears on retail shelves in the US and Canada have been conditioned with ethylene. However, only about 3 per cent of the conventional red Anjou and 2 per cent of the conventional Bartlett crop are being ethylene conditioned.
Moffitt noted the difference a ripe pear can mean for consumers.
"We see a lot of upside for conditioned pears, especially red and green Anjous. We have been telling retailers that a ripe Anjou is the new pear variety."