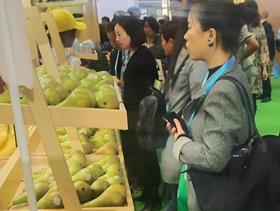 This week, Princess Astrid of Belgium kicked off what is set to be the largest Belgian economic mission ever, in China.
More than 600 participants took part, including from Belgian cooperatives BelOrta and Belgian Fruit Valley (BFV), to highlight the best of the Belgian produce industry, including Conference pears.
BelOrta, whose producers grow more than 90,000 tonnes of pears, is supporting export initiatives to China by promoting the unique characteristics of the Conference.
"We target the local market through attendance at various trade fairs, as well as an extensive tasting campaign," said BelOrta's Glenn Sebregts. "The latter is supported by an extensive range of promotional materials at the point of sale."
Together with VLAM, Flanders' Agricultural Marketing Board, BelOrta is organising a series of retail promotions in the most densely populated Chinese cities. "The best way to convince consumers is to let them taste the delicious Conference themselves," said Sebregts.
BelOrta has developed striking red packaging especially for the Chinese market. "This gives our pears immediate recognition," said Sebregts. "In addition, the smaller size of the box ensures a short lead time and therefore an absolute guarantee of freshness."
The successful introduction of the Conference pear on the Chinese market has sparked increased demand for other BelOrta items, the cooperative revealed.
"There are also plans to introduce a number of vegetables," said Sebregts. "In the coming years, we are ready to put the versatility and expertise of the Belgian fruit and vegetables sector on the Chinese map."