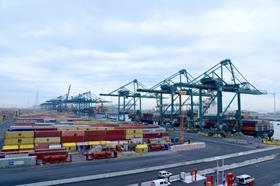 The total freight volume handled by Port of Antwerp rose during January-September 2019 by 1.1 per cent, compared with the same period last year.
According to the Port Authroity, container volume (in TEU) was up by as much as 6.4 per cent, although the slowdown in the world economy reduced the growth rate of more volatile trade flows.
With growth of 5.7 per cent, container freight is by far the largest category in the port of Antwerp, with growth mainly seen in the transhipment of containers, although container volumes are also expanding as a result of more imports and exports.
According to the port, all trading regions with the exception of Latin America recorded positive growth.
'The uncertainty in world trade has not yet had any impact on our container volume,' declared Port of Antwerp CEO Jacques Vandermeiren. 'In fact it is continuing to expand, thus further consolidating our world leadership position. As a consequence we are continuing to develop additional freight transport to the hinterland by rail and barge.'