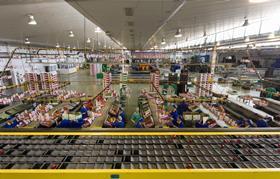 Hortofrutícola Costa de Almería has become the latest cooperative to join Anecoop after collaborating with the cooperative grouping for several years.
The incorporation of the Roquetas de Mar-based company allows Anecoop to reinforce its presence in Almería, from where it currently sources around 25 per cent of the produce it markets.
Costa de Almería specialises in peppers, cucumbers, aubergines, melons and watermelons, and produces more than 160,000 tonnes of fruit and vegetables a year.
It brings Anecoop's membership to 72 cooperatives representing more than 25,000 growers. Last year the group sold more than 1.1m tonnes of fruit and vegetables.
Juan Enrique Vargas, president of Costa de Almería, said: "after several years of collaboration, the next natural step was to partner with Anecoop, given the good understanding and synergies that the two entities share.
"This significant step will allow both of us to gain competitiveness in the sector and continue to grow strongly in international markets."
Anecoop's president, Alejandro Monzón, said it was an honour for Costa de Almería to join the group.
"Almería is a hugely important agricultural region, and incorporating new partners from the province to the group of cooperatives and companies that make up Anecoop gives us the strength and security to maintain our leader position in the industry.
"All this, without ever losing sight of the defence of farmers' interests and the promotion of an integrated and environmentally friendly agriculture," he added.