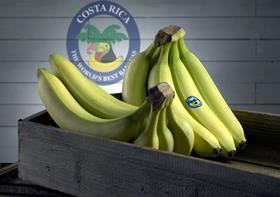 The start of the 2010 banana campaign in Costa Rica has laid the foundations for a positive year, leading to forecasts of a rebound following drought and flooding in 2008 and 2009.
Annual production is projected to reach 107m (18.14kg) boxes, an increase of 21.5 per cent from the 87m boxes produced in 2009 due to improved weather conditions and the full recovery of plantations, Costa Rica's National Banana Corporation (Corbana) told Fruitnet.com.
"We expect a significant recovery given that the plantations affected by flooding in November 2008 and February 2009 are once again in full production," revealed Corbana CEO Jorge Sauma.
"Even though we cannot predict the weather for 2010, we expect adequate temperatures and an equal distribution of rainfall throughout the year. In other words, we don't foresee any major issues such as droughts and floods."
Exports have already started to rebound this year, according to Corbana. In January, Costa Rica shipped 8.5m boxes of bananas, representing an impressive 17.8 per cent increase over the same month in 2009.
Within this growth, sendings to the European Union (EU) rose by 11.1 per cent, Corbana said, while other markets' intake grew by an outstanding 615.9 per cent in comparison to January 2009.
In 2009 the EU shored up its position as the world's biggest importer of bananas from Costa Rica for the second consecutive year, when exports to the region broke the 50 per cent threshold for the first time.
According to final figures based on documents approved by Costa Rica's Customs Office, the Central American country supplied over half (53.5 per cent or 46.5m boxes) of its total banana exports to the EU in 2009.