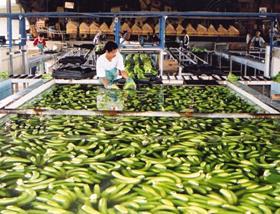 Costa Rica's national banana corporation Corbana says no signs of Boisduval scale and mealybug infestation have been detected in boxes of bananas packed for export markets, despite the recent rise in pest populations across the country's banana farms.
According to general manager Jorge Sauma, reports of the threat to the country's banana industry have been grossly exaggerated. He said a state of emergency had only been declared in order to enable growers to import treatments not currently registered for use in Costa Rica.
"These pests have been around for some time but it's likely that the recent rise in average temperature levels has accelerated their reproduction," he told Fruitnet.
Corbana has issued a series of technical recommendations to control the spread of the bugs, which includes the use of detergents or potassium salt in the field; removing dry fabric from the stem of plants; avoiding leaving bags on leaves and cleaning the fruit with detergent in the packhouse.
"Up to now, the method that has proved the most effective in controlling the scale is wrapping the bananas in bags coated in Buprofezin," said Sauma. "However, their use is not currently authorised in Costa Rica so we have declared the state of emergency to allow them to be imported from overseas.
At the same time, Corbana is working to find a biological solution to the problem by introducing other bugs to help eradicate the insects. "We hope to introduce the first biological controllers to plantations by the end of the first semester of 2014," Sauma said.
Costa Rica ships around 107m boxes of bananas a year, of which the European Union absorbs roughly half this total. According to foreign trade promotion body Procomer, the country exported US$594m worth of bananas between the months of January to October 2013.
Sauma stressed that recent reports of the danger posed by Boisduval scale to the industry had been exaggerated. "While it is true that it is present in 90 per cent of plantations, the situation is being kept under control by the measures we have put in place. By declaring the state of emergency, we are simply reinforcing current efforts by importing products whose effectiveness has been proven," he said.