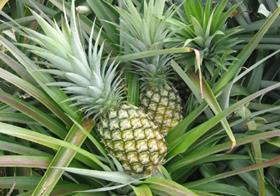 Exports of organic products from Costa Rica to European Union countries grew for the fourth consecutive year in 2014 according to a report in the Tico Times.
Figures from the country's Agriculture and Livestock Ministry's Organic Agriculture Programme (PNAO) showed a total of 12,500 tonnes of products including coffee, bananas and pineapples were exported to the EU, an increase of 4 per cent on 2013 and 18 per cent more than in 2012. The Netherlands was the main market, followed by the UK, Germany, Belgium and France.
Organic exports were hit severely by the 2011 global financial crisis. In 2010 Costa Rica shipped 25,209 tonnes of organic products to Europe but the figure dropped to 9,490 tonnes in 2011. PNAO director María Fernanda Reyes Chin-Wo said exports were recovering well and showing steady growth.
Officials at the ministry of agriculture attribute the rise to Costa Rica having been awarded third country accreditation by the EU, recognising the local organic agriculture certification system run by the ministry's phytosanitary service. Costa Rica obtained certification in 2003 and currently is the only Central American country with an EU third country accreditation.
According to PNAO there are currently 2,159 certified organic producers in Costa Rica. In the past two years 69 per cent of their production was sold to international markets and 31 per cent was sold locally.
Last year SFE certified 7,900 ha of organic crops, slightly up from the 7,450 ha reported in 2013.The administration of President Luis Guillermo Solís set a goal in 2014 to regain pre-2011 figures, aiming to increase organic production by at least 2,000 ha by the end of its term in 2018.
Last year Costa Rica had a total of 12 certified organic products including bananas, pineapples, coffee and cocoa. Records show that a number of producers of turmeric, ginger, blackberry and aloe leaves received their organic certification for the first time last year.