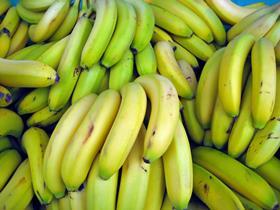 Managing the risk posed to global banana production by diseases such as Black Sigatoka and Panama disease will be one of the key topics up for discussion at the V International Banana Congress, which is taking place in Costa Rica in February. With a highly aggressive new strain of Panama disease spreading to new production areas, delegates will hear from experts on the latest methods of controlling its spread, including biological and genetic methods that are showing promise.
The congress will cover a diverse range of subjects, ranging from consumer trends and marketing challenges, to trends in transport and logistics over the next decade, the role of supermarkets in the banana value chain and agricultural challenges in the global economy.
Jorge Sauma general manager of Costa Rica's banana corporation Corbana, which is organising the event, says the congress will cover these and other topics in depth, looking at the most recent scientific research to bring delegates up to speed on all the latest developments within the industry.
The conference is due to take place on 24-27 February in San Jose, Costa Rica, attracting producers, businessmen, academics and researchers involved in the banana industry around the world. It is expected to attract more than 600 participants from Latin America, Europe, the US and other regions.
Costa Rica is the second biggest banana exporter in the world behind Ecuador, shipping around 107m boxes of the fruit a year. The European Union and US are its main markets, accounting for 49.4 per cent and 42.9 per cent of the export total last year.

For more information, visit the International Banana Congress website