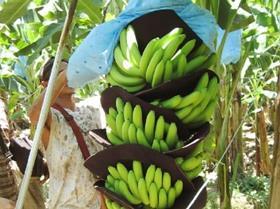 The strike by a group of workers at banana plantations in Sixaola, Costa Rica, has reportedly resulted in losses of 280m colones (US$557,000) to date for the company Bandeco, a subsidiary of Fresh Del Monte in Colombia, Ecuador, Central America and Brazil.
The stand-off, which has continued for 20 days already, is apparently divided with 200 of the 600 workers on strike, according to the report by Costa Rican publication La Nación.
Meanwhile, the remaining 400 employees have expressed their desire to return work but Fresh Del Monte claims they cannot while the remaining workforce continue to protest and block the entry of fruit.
Some 50 workers were dismissed last week, a decision which sparked off the protest, the report said.
Federico Abrego, one of the leaders of the Public and Private Workers Syndicate (Sitepp) who is in defence of the strikers, claimed that they will continue to impede usual working condition until the company sits down to negotiate.