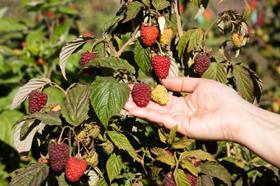 Chile's Fruit Technology Consortium (CTF) and the Catholic University of Chile have developed four new raspberry varieties that are 100 per cent Chilean-owned.
The varieties were presented to growers at a special field day at CTF's trial farm in Santo Domingo.
They join three existing varieties launched by the consortium in 2015 under the names of Santa Catalina, Santa Clara and Santa Teresa.
CTF said all three have been well received by small producers in southern Chile, as well as in Spain, Portugal, Morocco, Mexico and Peru thanks to their large berry size and rich flavour.
The consortium hopes to repeat this success with the new varieties, which are characterised by their productivity and resistance to water stress and disease.
"Our Raspberry Genetic Improvement Programme has always focused on small and medium-sized producers, providing them with a profitable and high-quality alternative to improve their production and quality of life, especially in those areas of the south where there were fewer commercial options than develop, particularly in La Araucanía," said Ronald Bown, president of Asoex and CTF.
"We believe that these four new varieties are a great contribution to the future development of these communities, allowing growers to sell their products locally and possibly exporting them to other markets."
Marina Gambardella, director of the Raspberry Genetic Improvement Programme, commented: 'These four new varieties of raspberries have much better characteristics than the previous varieties in terms of production per plant and also the quality of the fruit.
"We have maintained the large size of the fruit, the good flavour, aroma, and sweetness. In addition, the plant is more vigorous, which allows the producer to have better returns".
Gambardella explained that the second stage of the programme has been oriented towards sustainability. 'We have been focusing on developments with resistance to biotic and abiotic stress, which means resistance to diseases and major pests, and resistance to drought, heat,' she said.