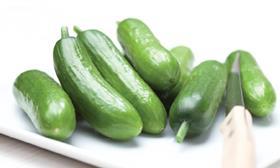 Vegetable seed group Rijk Zwaan this month hosted a customer event especially for growers from northern Europe, 'All about Cucumbers', which was designed to update producers on the latest developments in terms of breeding, production and market trends, and to help them capitalise on new opportunities.
Around 150 growers travelled from across the Netherlands, Belgium, Germany, France, Poland, Austria, Croatia, Bulgaria and Scandinavia to attend the event, which was held at Rijk Zwaan's new facility in Fijnaart.
A number of growers visited the demo field for open-field crops in the morning, where a number of retail concepts were also presented in the canteen.
The workshops explored topics such as disease pressure, developments in the fresh chain, breeding techniques, seed quality and new production techniques, while growers also had the chance to go on a guided tour of the laboratory.
"The cucumber market is evolving.' saidJohn Coremans, crop manager cucumber at Rijk Zwaan.'Our growers and partners need to anticipate the changes, and as Rijk Zwaan we're keen to help them by sharing our knowledge related to production, disease resistances and market intelligence. Sharing the expertise that is available within Rijk Zwaan with our partners helps us to grow stronger together and make better decisions for the future."