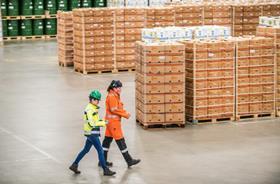 Reefer terminal operator Belgian New Fruit Wharf (BNFW), part of the Sea-Invest group, was impacted this week by cyber attacks that affected the IT systems at every port run by Sea-Invest in Europe and Africa, according to the BBC.
A report from Euronews stated that the hack began several days ago, principally disrupting operations at oil terminals and preventing tankers from delivering energy supplies.
The AFP agency revealed that the attacks had disrupted the unloading of barges in the affected European ports.
"There was a cyber attack at various terminals, quite some terminals are disrupted," Jelle Vreeman, senior broker at Riverlake in Rotterdam, told AFP. "Their software is being hijacked and they can't process barges. Basically, the operational system is down."
Belgian newspaper De Tijd reported that Sea-Invest had been able to limit the damage, with measures taken to prevent suppliers and customers from being impacted.
Fruitnet understands that operations at the fruit and container division have been gradually returning since Wednesday, having resorted to manual methods of fruit handling and handwritten records.
Belgian New Fruit Wharf controls fruit terminals in Antwerp, Hamburg and Zeebrugge, handling large volumes of bananas, kiwifruit and pineapples.