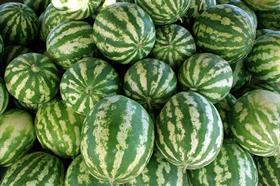 The government of Cyprus has reassured farmers facing tough new challenges as a result of the Covid-19 pandemic, with agriculture minister Costas Kadis touring production areas and promising further support, according to Cyprus Mail.
Kadis said that in addition to the two packages of measures that have already been implemented to assist growers, extra measures are under discussion.
"Today was an opportunity to talk to producers, to see the problems and to hear their suggestions on how to manage these problems," Kadis said following a meeting with producers at cooperative Sedigep in Paralimni. "It is a fact that due to the measures taken to deal with the pandemic of coronavirus, hotels and restaurants remained closed, the tourism sector in general, with the result that there is a problem with the availability of agricultural products."
Farmers with surplus volumes of watermelons, caused by a decline in tourism, are set to receive a subsidy to export the fruit, with a proposal set to be presented before the Council of Ministers.
A recent decision by the Council will see €700,000 distributed to vegetable growers to help them deal with the current challenges.
"Together with the agricultural organisations we have started a tour throughout Cyprus," said Kadis, "and now that the conditions allow it, we want to be next to our farmers again, on farms and in the orchards to see the problems up close."
Following Larnaca and Famagusta, the minister is reportedly scheduled to head to Troodos and the districts. Each region, Kadis said, had its own problems and challenges that needed to be addressed.