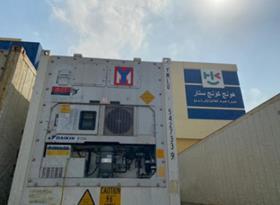 Daikin Reefer and IRS International have joined forces and from 1 November 2021 and are relocating into single premises in, Moordrecht, Rotterdam to operate as a sales, service and spare parts supply centrefor their customers' needs.
Daikin Reefer is a leading supplier of refrigeration and climate control solutions for freight containers.
Headquartered in Japan, Daikin Reefer is a business unit of the refrigeration division of global refrigeration, air conditioning and climate control provider Daikin Industries.
IRS International is a specialist organisation dedicated to providing services to the international and domestic refrigerated container industries. IRS provides the largest service, repair and spare parts network in both Australia and in New Zealand.
Until recently, Daikin Reefer spare parts supply for LXE10E and ZeSTIA machines in Europe was under the control of Daikin's air conditioning division, Daikin Europe.
"With the current very tight availability of container equipment and with equipment always needed to be on the move and ready for its next shipment, the rapid availability and steady supply of spare parts is more important than ever before," Daikin said.
"Setting up a spare parts supply warehouse in the Rotterdam region which will operate as a one-stop-shop, dedicated exclusively to Daikin Reefer under the operation of IRS International, will ensure the highest levels of service."
IRS International, which became part of the Daikin family in 2008, has been specialising in 24-hour cargo care services for over 40 years. Since 2011 IRS International has opened spare parts centres in Dubai, South Africa and now Rotterdam, together with its operations in New Zealand and Australia.
Peter Labbad, managing director of IRS International commented: "As the reefers evolve and technology continues to move forward, we are there to support our customers with excellent and fast parts supply. We will be listening to Daikin's customers closely and ensuring that we deliver their needs".
Daikin Reefer established its current Rotterdam office in 2001 when the company launched its ground-breaking LXE10E reefer container machine using scroll compressor technology. The LXE10E was later joined by the ZeSTIA machine using inverter compressor technology to reduce energy consumption and CO2 footprint.
Most recently Daikin's Active CA has helped maintain optimum quality, extend in-transit journey time and increase shelf life for sensitive and exotic fresh produce.
Daikin Reefer said its Rotterdam office has played a key role in expanding the sales and service network for the EMEA region and has served as the direct point of contact for all customers in the region as Daikin Reefer's global business has continued to grow.
In addition to maintaining direct customer communication, offering increased spare parts stock and ensuring fast delivery, Daikin Reefer and IRS International will develop a comprehensive offering including reefer spare parts supply, ship kits supply, ship kits management, service parts control and supply, service support, training and reefer unit sales.
Arjan Bezemer, general manager Daikin Reefer Europe, Middle East and Africa added: "With this new setup of Daikin Reefer and IRS International operating from one strong combined base, we are setting the direction for further growth".