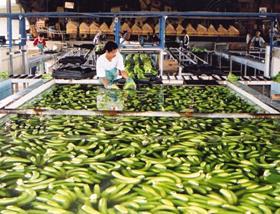 Dole Food Company has announced that it is implementing a new system to reduce the environmental impact of its banana harvesting and packing operations in its Standard Fruit de Costa Rica division.
According to a statement by the US-based multinational, the innovative 'New Millennium Packing System' specifically targets reducing the use of water by a factor of 10 and energy use by 50 per cent, compared with a traditional packing plant.
'This new achievement demonstrates Dole's commitment to address water use, one of the most crucial agricultural issues for the years to come,' said Dole's corporate social responsibility manager Roberto Vega. 'The concept has recently been extended to a Dole operation in Honduras and an additional farm in Costa Rica will begin with the New Millennium System by the end of the year.'
In 2009, Standard Fruit de Costa Rica began an overhaul of its banana harvesting and packing process in a bid to reduce energy and, in particular, water use, which is required extensively in the banana packing process.
An analysis of the flow of bananas from field to packing was undertaken by the group, with the harvesting and product selection processes revamped, allowing many of the packaging tasks to be carried out closer to the field.
As a result, byt he time the fruit reaches the packing location, around half of the activities required to prepare the bananas for packing have already occurred, reducing the need for water and energy, Dole said.
'The total impact of this system, if implemented on a regional level, would allow the banana industry to save over 60m cubic metres of water used in packing,' noted Standard Fruit de Costa Rica's general manager Danilo Roman. 'As climate change affects water availability in the developing world, solutions such as our New Millennium Packing System have the potential to free enough water to provide for the needs of a population of over 30,000 people per year.'