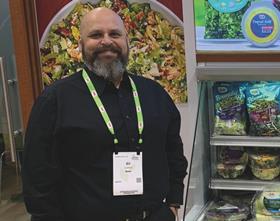 The Produce for Better Health Foundation (PBH) has announced Bil Goldfield of Dole Food Company as the new chairman of the Board.
PBH's executive committee works in partnership with the broader PBH Board of Trustees to develop and direct PBH programming and services, including the signature State of the Plate Research Report: Fruit and Vegetable Consumption in America.
This advances the understanding of consumption behaviours and informs future approaches; retail, foodservice and influencer engagement strategies, driving sales and inspiring increased consumption; and PBH's comprehensive digital ecosystem, reaching millions with behavior-based, action-oriented messaging on a daily basis.
"The PBH board of trustees, including the PBH executive committee, are highly engaged; critical in advancing PBH's mission to increase consumption of fruits and vegetables; and serve as our biggest advocates for the PBH Have A Plant Movement," said Wendy Reinhardt Kapsak, PBH president and CEO.
"PBH is an inclusive, member- and consumer-driven charitable organisation,' she said. 'Bil Goldfield's expertise will be an asset to help us position fruits and vegetables at the center of the plate, and at the forefront of the plant-based dialogue in 2020. He will be a fabulous chairman; we are thrilled to have his leadership at PBH.
"As a member and supporter of PBH for many years, I'm honoured to step up and serve as PBH's chairman of the board during this very exciting time – not only for PBH but for the produce industry overall," said Goldfield. "As leaders within the industry, it is critical that we come together to support the Have A Plant consumer movement, which is not only rooted in behavioral science but also provides us with a platform to make fruits and veggies the first thing people reach for and think about when they think about a plant-based diet.
'As we embark on the next phase of PBH's transformation to convening thought leader and change agent, we must work together to make fruit and vegetable consumption a national priority,' he added. 'I personally invite you to get engaged in PBH – the only association 100 per cent focused, every day, on making increased fruit and vegetable consumption a reality."