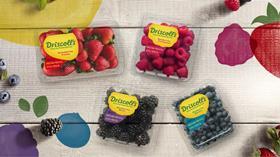 US-based berry companyDriscoll's says four months into the launch of its brand rollout #BerryTogether the campaign has been resonating with its consumers in the US.
Since the launch in July 2017, the brand video has been viewed more than 5m times, entries for the #BerryTogether Sweepstake have gone into the thousands, and Driscoll's says that its BerryTogether digital hub has been visited by millions of consumers.
"#BerryTogether is part of our long-term strategy to capture the strong emotional drivers of why people prefer to eat fresh berries compared to other popular fruits and vegetables," said Frances Dillard, director of marketing and Driscoll's global brand lead, in a company statement released 16 October. "In the four short months since we launched the campaign, it has been incredibly rewarding to see our strategy has resonated with our brand advocates."
The campaign isDriscoll'sfirst in the US since it unveiled itsnew lookin 2016.