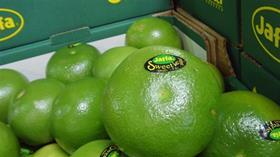 Warm weather in Israel has led to an early start to the citrus export season for produce giant Agrexco.
All varieties, including Red Pomelo, Sweetie, red grapefruit and white grapefruit are already available on the market, the group said in a statement.
Golda Ezuz, manager of the citrus division at Agrexco, said that this season's citrus crop will at the very least match 2007's volumes, and in some varieties will exceed last year's total yield.
'We have high hopes for the fruit that has served as our best ambassador for many years,' Ms Ezuz said.
This season the citrus will be exported to both western and eastern European countries, including the UK, France, Italy, Poland, Russia, Germany, the Netherlands, Austria, Belgium, the Czech Republic, Hungary and Scandinavia.
Additionally, the Sweetie variety will be exported to the Japanese market by the end of October, the group noted.