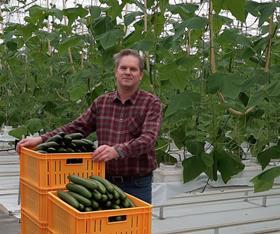 The first cucumbers of the Belgian season from traditional cultivation have been auctioned this week at the BelOrta cooperative, kicking off the early vegetable season.
The cucumbers were grown by BelOrta producer Wim Joosen of Tuinderij Joosen in Brecht.
"As a result of the high gas prices, we expect the first supply peak in week 14 instead of week 10, so a delay of just over a month," revealed Bruno Vuerinckx, sales supervisor at BelOrta.
Traditionally grown cucumbers will be available until mid-November, according to the cooperative.
'But consumers need not worry,' it stated. 'For the fourth year in a row, cucumbers will be available year-round at BelOrta. In addition to traditional cucumbers, BelOrta also offers Crunchy King mini-cucumbers, snack cucumbers and organic cucumbers.'