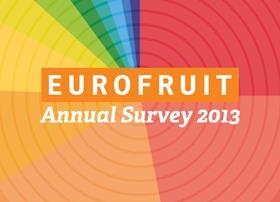 Markets in eastern Europe offer the brightest prospects for growth in sales of fruit and vegetables over the course of the coming year, according to Eurofruit's first ever annual survey of leading executives working in the European fresh produce business.
The survey's results, which are published in latest edition of Eurofruit, showed that Russia, Poland, Ukraine, Romania and Bulgaria were the three markets where respondents expected to see the largest increases in demand for fresh fruit and vegetables in 2013.
A total of 13.6 per cent of the 349 industry leaders polled said they thought Russia presented the best opportunity to grow sales, with 10.6 per cent picking out Poland, 9.5 per cent Ukraine, 9.1 per cent Romania and 8.4 per cent Bulgaria.
A further 7.7 per cent of respondents said eastern Europe in general was where they thought an increase in demand would materialise during the coming 12 months.
'None of the markets in western Europe will show an increase in demand at macro level,' commented one executive working as a consultant to leading fresh produce exporters. 'Better to try Poland, Russia, Ukraine, Kazakhstan and so on.'
However, there was some encouragement for those looking to maintain or grow their sales in Europe's more traditional consumer markets, with Scandinavia (7.2 per cent), Germany (6.9 per cent) and the UK (6.1 per cent) also flagged up by some as presenting opprtunities for growth.
The January 2013 issue of Eurofruit is alreadyavailable to readers via its iPad edition.
For more details on how to purchase a print and online subscription to Eurofruit, including free access to the iPad edition, visitwww.fruitnet.com/subscribe