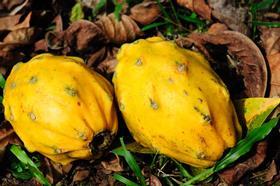 Ecuador reported a big rise in pitahaya exports last year following a surge in new plantings, according to a report in El Universo.
Data from the Association of Pitahaya Producers of Palora Canton, where around two-thirds of the country's production is located, shows that shipments totalled 17,895 tonnes in 2021, an increase of 60 per cent on the previous year. Exports are forecast to climb by a further 40 per cent in 2022.
The association's president, Gabriel Cruz, said an extra 1,000ha of production is due to come on stream this year.
However, many growers are concerned that the uncontrolled growth in new plantings is already leading to overproduction and eroding prices. The situation is being exacerbated by the steep rise in production costs growers have had to contend with over the past year.
Roberto Robalino, a pitahaya producer from the Palora canton, told the newspaper that a lack of control and regulation in the sector has led to the crop being planted in an excessive way, and that many producers had stopped cultivating it because of the falling prices.
He called for the government to introduce new laws to regulate the sector.
Pitahayas were introduced as an alternative source of income for rural communities in the Amazonian region, to replace traditional livestock farming.
Production exploded in 2014 following the opening of the US market.
Robalino called for the government to prioritise the signing of trade agreements that would allow the fruit to be exported to more markets.
"We want the government to sign trade agreements to be able to send our fruit directly to China and other Asian markets such as Japan and South Korea, which are markets that would allow us to grow more in exports," he said, adding that regional markets like Peru and Brazil also have the potential to become good markets.
According to plant health authority Agrocalidad, Ecuadorean pitahayas were shipped to 27 countries in 2021. The US was the leading destination, taking just over 84 per cent of total shipments, followed by Colombia and Singapore with 5.4 per cent and 2.7 per cent respectively.