Shipments down by more than 10 per cent since the start of 2022 says Acorbanec
Ecuadorean banana exports totalled 280.96m boxes (18.4kg) in the ten months to October, a decrease of 10.81 per cent compared to the year-earlier period.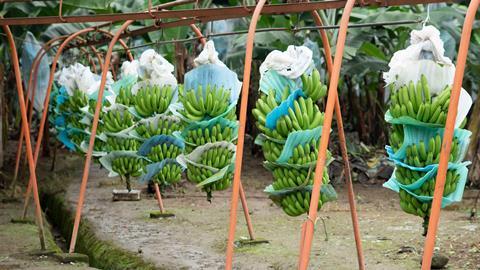 Exporter association Acorbanec said the drop was due to a combination of factors. On the production side, yields were lower due to climatic factors, producers cutting back on use of fertilisers and extending cycle frequencies, and a general reduction in farm maintenance work. The European Union ban on chemical inputs such as Chlorpyrifos also generated increased losses at farm level.
"Given these factors, it is expected that, for the last two months of this year, production will not improve," Acorbanec said, adding that although spot prices had improved, producers are not able to invest more in farms due to having to service their debts.
The container shortage, higher freight rates, disruption to shipping services, and the Russia-Ukraine conflict also impacted export volumes.
Shipments to the European Union, Ecuador's biggest market, fell by 14.66 per cent, while exports to Eastern Europe and Russia fell by 53.48 per cent and 2.19 per cent respectively. Exports to the US and East Asia were also down 17.02 per cent and 12.91 per cent respectively.
However there was significant growth in markets such as the Middle East, which increased by 8.62 per cent, and Central Asia by 38.94 per cent.
Acorbanec anticipates continued contraction in exports in the first quarter of 2023, with shipments in January forecast to drop by 2.9m boxes compared to last year, and further decreases of 6.09 per cent and 6.87 per cent expected in February and March.