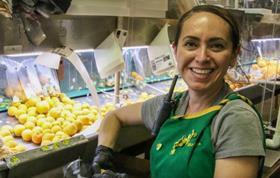 Non-profit orgainsatin Equitable Food Initiative (EFI) is celebrating National Farmworker Awareness Week by encouraging growers, agricultural associations and consumers to share messages honouring farmworkers.
EFI is looking to highlight those making it possible for Americans to have access to high-quality, fresh and safer fruits and vegetables, particularly in light of the pandemic.

National Farmworker Awareness Week (25-31 March) is a designated week of action for communities to bring attention to the multiple challenges farmworkers face and honour their important and essential contributions to the food supply chain.
'This past year has helped the world shine a light on the men and women of many essential industries, including agriculture,' EFI outlined. 'Now more than ever, consumers have taken an interest in where their food comes from and the special people who help get it from farm to table.'
EFI is encouraging industry members and consumers to use the #AlwaysEssential hashtag and recognise the importance of the sector by taking part in several activities.
These include creating unique content or videos for social media highlighting Farmworker Awareness Week; providing 'live' content for social media channels featuring farmworker interviews detailing their jobs, the safety precautions they take and the skills and knowledge they bring to their work; and contacting local media and asking them to share information about the role of agriculture and farmworkers in local economies.
"One positive thing to come out of the pandemic is that farmworkers were recognised as essential, but this is by no means a new concept," said LeAnne Ruzzamenti, director of marketing communications for EFI.
"They have always played a vital role in the food supply chain, and in fact are the root of the supply chain, ensuring the availability, quality and safety of our food,' she added. They should be celebrated every day, and those of us working in the food system need to ensure they have safe, healthy and respectful working conditions."