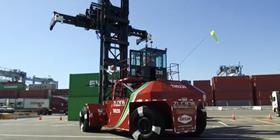 The world's first zero-emissions top handlers, unveiled last year as part of a pre-commercial trial at the Port of Los Angeles, are now being used in daily operations at the Everport Container Terminal.
"We are pleased with performance results that we are receiving from drivers, mechanics and Everport management as the equipment is tested daily in real-world conditions," said Port of Los Angeles executive director Gene Seroka.
"We are doing everything possible to advance commercially feasible solutions to meet our goal of transitioning all cargo-handling equipment to zero emissions by 2030."
The two battery-electric top handlers were designed and built in the US by Taylor Machine Works, a heavy-duty equipment manufacturer.
Each top handler runs on a one-megawatt battery, designed to operate for up to 18 hours between charges. A data logger has been fitted to track hours of operation, charging frequency, energy usage and other performance indicators.
Additionally, drivers and mechanics are providing input on the manoeuvrability, noise level and safety of the equipment.
Eliminating tailpipe emissions from cargo-handling equipment is essential to achieving the port's goal of reducing greenhouse gases (GHGs) from all port-related sources. Port targets call for reducing GHGs 40 per cent below 1990 levels by 2030, and 80 per cent below 1990 levels by 2050.