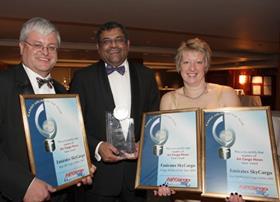 Airfreight specialist Emirates SkyCargo has been handed a number of awards at the Cargo Airline of the Year Awards in London, including the event's top prize.
The group picked up the award for ACN Cargo Airline of the Year 2009, as well as being voted Best All-Cargo Airline and Best Middle East Cargo Airline – the latter being the 21st successive year that Emirates had been handed the award.
'Emirates SkyCargo is truly honoured to have received these incredible accolades from our partners in the international cargo community, said Emirates divisional senior vice-president for cargo Ram Menem at the awards. 'This recognition once again, coming at such a challenging time for everyone in our industry, provides the best possible acknowledgement of our continued investment and commitment to providing a world-class cargo operation.'
Meanwhile, the group also picked up the prize for Best Air Cargo Carrier (Middle East) at the 2009 Asian Freight & Supply Chain Awards in Hong Kong, the 14th consecutive year that the group had been handed the award.