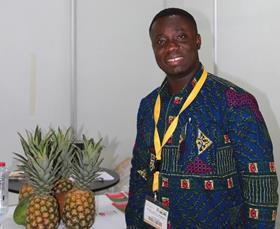 Ghana's Fruit Brothers, part of YO Amankwah & Sons, is a producer and exporter of pineapples and mangoes. The company's pineapples are predominantly exported to Europe, with its main markets being France, Portugal and Belgium.
"We are trying to send more to Europe," says the company's sales and marketing manager, Samuel Owusu Amankwaa. "We have good volumes of the MD2 variety, but we are also seeing good demand for the Sugarloaf variety, which is very sweet and juicy, with a good flavour."
Regarding Serbia, Amankwaa reveals that the company is interested in finding out what opportunities there are on the market for Ghanaian pineapples. "We are not very familiar with the Serbian market, so we need to find out what chances there are for our company. Much will depend on the tastes of consumers there and what level of sweetness people like."
Although the shelf-life of the Sugarloaf is shorter than that of the MD2, a lack of competition in Ghana makes this an attractive option for the company.
"Most of our competitors do not grow the Sugarloaf, which is rare in Ghana," says Amankwaa. "This gives us an advantage. We are increasing our production of this variety, even if volumes remain small compared with our overall pineapple volume."
The company's main market for mangoes is Dubai, where it sends the Kent and Keitt varieties. "We send by air, which comes at a cost," says Amankwaa. "It makes it difficult to compete with Kenyan exporters, who send by sea. But we manage to. We prefer to work with an importer in Dubai, rather than to send direct to markets like Saudi Arabia. It is less risky to let an experienced importer take care of the distribution."
YO Amankwah & Sons now plans to develop its mango business in Europe, says Amankwaa. "We are in talks with clients in France, where we have already started with small volumes," he reveals. "Now we are looking to expand there."