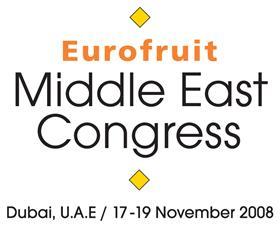 There have been a number of exciting additions to the programme for the Eurofruit Middle East Congress 2008, taking place at the Shangri-La Hotel, Dubai on 17-19 November 2008. The first of these will be a panel session examining the pressures that Dubai faces as a result of its swift and dramatic growth, and exploring the way in which the trade is reacting to this growth.
There is also a new session featuring presentations on the attempts of Egyptian and Indian producers, historically accustomed to concentrating on the markets of western Europe, to increase their market share in the growing Middle East market. Asit Tripathy, Chairman of APEDA, has been invited to provide the Indian perspective.
In addition, Rens Knieriem, a specialist in the foodservice and fresh-cut industry, will be joining us from seed company Nunhems Netherlands to talk about the growth of the foodservice sector in the Middle East.
Finally, on the last day of the congress, delegates will be invited to visit the local Panda hypermarket. Delegates therefore have the choice of participating in a retail tour or a visit to the Emirates Sky Cargo Mega Terminal.
Top industry professionals have already signed up to attend the event, organised by Eurofruit Magazine. Don't miss out on the opportunity to do business with key names in the fruit and vegetable business in the Middle East.
Register online and SAVE up to 30 per cent on your delegate fee. Registered delegates can also benefit from exclusive rates at the Shangri-La Hotel, Dubai. There are not many rooms left, so book your room today! Room reservations can be made when you process your registration for the Eurofruit Middle East Congress online at www.mideastcongress.com.

For more information, contact:

Lyna Fernandes Nobrega
Marketing & Promotions Manager
Eurofruit Middle East Congress
Tel: +44 (0) 20 7501 3725
Fax: +44 (0) 20 7498 6472

info@mideastcongress.com
www.mideastcongress.com