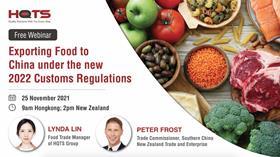 The food import and export market in China is continuously growing, with New Zealand as the most prominent exporter of food goods to China with US$8.18bn, followed by Australia (US$7.7bn) and thirdly Thailand ($5.98bn).
Meat, fish and dairy products are ranked as the three highest food-based imports, meat-based products being the highest, accumulating around US$18.89bn.
From 1 January 2022, all overseas food producing, processing and storage companies must comply with the new registration regulations from the General Administration of Customs in China (GACC), with regards to exporting food products to China.
Until the end of 2021, it is only producers of higher-risk food products who have to register their manufacturers with GACC (with the approval/recommendation of their local authorities). However, this new regulation extends the requirement to all manufacturers.
From January 2022, foreign companies who export food to China will have to go through two different procedures; high-risk food producers will have to register with China Customs via foreign authorities; and other food producers will have to submit registration applications directly to Chinese Customs, without a third-party.
Therefore, it is vital that food exporters fully understand this new regulation.
Interested to hear more? HQTS's in-depth webinar 'Exporting Food to China Under the New 2022 Customs Regulations' will cover the latest regulation updates, labelling requirements and tips for your export business.
The webinar takes place on Thursday 25 November at 9am, Beijing time.
Who is this webinar for?

- Chinese food importers
- Food exporters to China
- Food manufacturers
- Producers of high-risk foods
- Food and agribusiness

Why you should watch this live webinar ?

- To better understand the Chinese food import market
- To learn more about the updates of the 2022 Customs Regulation
- To find out what the main changes of the regulations are and what the labelling requirements will be
- To equip your export business with the best food customs tips to ensure you are following the correct regulations

Speakers

Lynda Lin - HQTS food trade manager
Lin is currently the HQTS food trade manager, working with many clients across domestic and international markets. She has vast experience regarding food trade regulations and inspections, specialising in China.
Pete Frost - New Zealand trade and enterprise (NZTE)
Frost has degrees in law, French and New Zealand politics, and he now leads a team in Guangzhou, China, supporting the growth of New Zealand's companies within Southern China.
NZTE is a government trade and investment company, helping other companies to grow their business in international markets, whilst still attracting foreign investments into New Zealand.