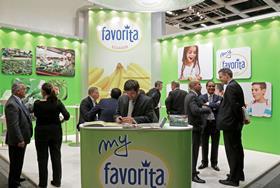 Ecuadorean banana producer and exporter Favorita is to launch a major new promotional campaign across Europe, as well as a new corporate identity, it has emerged.
The new campaign, which has been conceived and developed by German advertising agency Eggert Group, is entitled My Favorita and will be rolled out in all European countries in their respective languages, starting with Austria, France, Germany, Scandinavia and the UK.
As reported by leading German fresh produce weekly Fruchthandel, the campaign was previewed at this year's Fruit Logistica trade fair in Berlin.
The new campaign is seen as an ideal means of communicating to consumers across Europe with a single voice, the publication suggested.