Join the World Citrus Organisation and Fruitnet Media International on 30 November for the leading online event for the international citrus business
There is less than a week to go to Global Citrus Congress 2022, the annual online gathering of the international citrus trade organised by the World Citrus Organisation and Fruitnet Media International.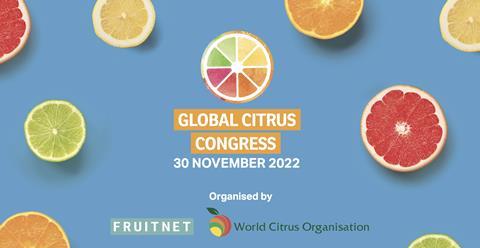 Under the theme 'The outlook for citrus in unpredictable times', the free-to-register event takes a deep dive into the current and future challenges facing the global citrus market, exploring strategies to strengthen the citrus sector through improved logistics, better marketing and more ethical and sustainable business practices.
The first session sets the scene with an overview of the global trade as we head into 2023. The WCO's Philippe Binard and Gil Kaufman present the latest Northern Hemisphere production forecast, after which Eric Imbert of Cirad analyses the current global citrus market and Northern Hemisphere production season.
We then turn our focus to strategies to future proof the sector in a session titled "Testing the resilience of the citrus market'. Richard Bright of Reefer Trends shares his expertise on navigating logistics in today's turbulent times.
This is followed by a panel discussion, moderated by Fruitnet's Chris White, in which Linda Cunningham of Classic Harvest, Marta Bentancur of Uruguay Fruits, Rafael Llerena of Easyfresh Logistics and Anya Jaworski of San Miguel share their thoughts on how to curtail crisis and ensure the survival of today's citrus business.
The second session concludes with Cirad's Claudie Dhyique-Mayer presenting the WCO's comprehensive new study into the nutritional composition and health benefits of world citrus.
The third and final session explores ways to nurture the environment and health for the continued development of the citrus category. Shannon Shepp of the Florida Department of Citrus outlines the powerful role of health and nutrition in unlocking citrus demand.
Then, on the topic of promotion, Oscar Mozún of Tactics, shares some of the lessons learnt from the successful 'Welcome to the Lemon Age' European marketing campaign. The third and final session also hears from Helen Prosdocini of GlobalGAP, who provides a comprehensive presentation of GlobalGAP's Spring Certification water management scheme.
Full details of the sessions and speakers are now available on www.fruitnet.com/gcc/.