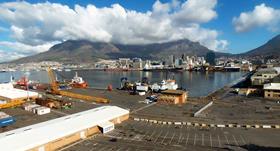 Efforts to deal with the results of a fire in the hold of a container vessel in the port of Cape Town are continuing.
The vessel MV Sao Paulo was en route from Durban to Cape Town when the fire broke out below deck.
Shipping sources have confirmed that the vessel serves the South African Far East run. It is not sure whether citrus from Durban was loaded on the vessel before it sailed to Cape Town. Normally citrus exporters favour vessels that sail directly for Durban to the Far East.
It is also not certain whether any other fruit was scheduled to be loaded on the vessel in Cape Town. Shipping sources say it will have an impact on shipments because of the fact that a vessel is basically taken out of service.
The MV Sao Paulo arrived at Cape Town in rough weather earlier in the week with the situation having been contained while the vessel was at sea.
The first winter storm of the year reportedly prevented it from being brought into the container terminal. She had to remain on anchorage along the outside wall in high winds.
Reports that some containers may have been lost overboard during the storm could not be confirmed.
Gary Kleyn, commercial manager at Transnet Port Terminals' Cape Town Terminals (TPT) told shippers today that Port Control provided priority emergency berthing to the MV Sao Paulo at an open Container Terminal berth.
"While berthed, Port Control reported smoke billowing out from the vessel. Fortunately the fire and rescue services on hand were able to contain and extinguish the fire.
"The consequence of this flare up is that the safety of lives and the port came into play. At short notice yesterday, TPT was called in to assist the situation. Containers above the point of the fire needed to be removed to access the hatch cover for further assessment below deck. This discharge was successfully achieved before sunset yesterday as no night operations for this type of work are permitted for safety reasons."
Kleyn said the operation is continuing today until such time that the surveyors and fire and rescue teams can evaluate the situation below deck and declare that the vessel is secure from any further flare ups.
"Most unfortunate disasters do strike when one least needs or expects them. This will and has placed additional strains on the terminal resources," he said.
He asked customers to be patient while the Port authority resolve the situation as quickly as possible.
The container terminal in Cape Town has been in the news lately due to delays in empty container clearance and export loading operations. It is likely that the present situation will further exasperate the situation.