Growers in the north of South Africa have started their new table grape harvest, with Namibia to follow from next week
The new Southern African table grape season is underway with the first Early Sweet grapes packed in the northern regions of South Africa.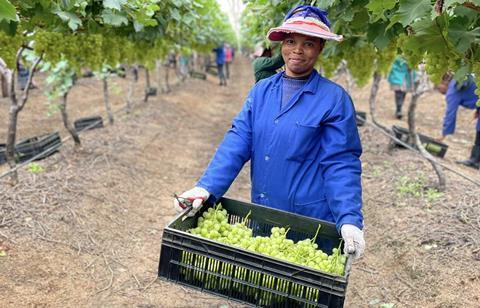 Namibian growers have confirmed that they will start their harvest from Monday (7 November).
The season starting in the first week of November suggests that the pre-Christmas supply programme to Europe and the UK will be normal, with shipments gaining momentum when the Orange River – South Africa's largest early season table grape supplier – come on stream from the 20 November onwards.
For growers in the north this week was focused mainly on the local market, with the last lingering volumes of Italian grapes were still on the shelves this week.
The first export container shipments are also expected to start this weekend.
Growers are hoping to harvest between 6m and 6.5m cartons for the export market this year, well below the of 8.4m cartons exported two years ago.
It is reported that area planted for table grapes in the north has been reduced due to last season's problems and that some growers had ceased production.
"This will take about one million cartons out of our previous forecasts," producers have said.
Despite a lower crop, growers are positive about the new season – with the emphasis being on producing the best quality products.
Grapes from the north are brought by road to Cape Town over vast distances, where, on arrival, they are loaded on container vessels. The same applies for shipments from Namibia, which are brought along the South African West Coast down to Cape Town.
Leading logistics supplier to the Namibian industry, GoGlobal, has said that it is are well prepared for the usual early season logistics problems in Cape Town port.
"If we need to, we will make more use of conventional reefers which are not as much affected by wind delays and problems associated with the container terminal," said Delena Engelbrecth, CEO of GoGlobal.