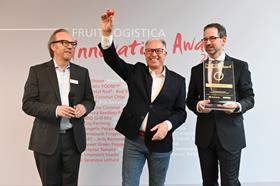 Spain's Granada La Palma, who scooped this year's Fruit Logistica Innovation Award for its Amela tomato, says the prize reflects the value placed by consumers on the tomato category as a whole.
Picking up the award on the closing afternoon of the trade fair this Thursday, the cooperative's president Pedro Ruiz said it would help boost the company's sales across the tomato category.
"This shows that Amela is an exceptional tomato, high in nutrients and amino acids.
It also helps our brand to sell special tomatoes.
"But it is not only about Amela. This award will also bring recognition to the tomato as a whole. In Europe, it has always been highly valued and a product which exists in every household," Ruiz said.
Amela was the clear winner of this year's FLIA, which is chosen by visitors to the trade fair, reportedly attracted around two-thirds of the votes.
"To be among the nine nominees out of 90 entries in the FLIA competition with so many international companies was already a great award for us, especially because the tomato industry is currently facing great challenges worldwide," Ruiz continued.
"As a European farmer, this fills me with satisfaction and pride. It is a great honour to receive this recognition at the most important trade fair in the world."
Ruiz said Granada La Palma would continue developing new tomato varieties, as well as other fruits, to satisfy consumer demand for new products and experiences.
"Innovation is very important. We have to keep trying new, attractive and functional things, that's why we do research.
"La Palma is a pioneer in innovation. We recognise when it becomes too much, when consumers only buy our product once and then never again. The limit is the receptivity of the customers."