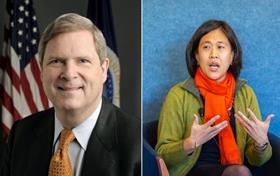 The Fresh Produce Association of the Americas (FPAA) has added its support for the nomination of Thomas Vilsack as Secretary of Agriculture and Katherine Tai as US Trade Representative.
Vilsack previously served as Secretary of Agriculture during the Obama Administration and has since been involved with the Dairy Export Council.Additionally, he has a strong background in developing rural communities.
As US Trade Representative, nominee Tai will work closely with President Biden as his principal trade advisor and will also oversee trade negotiations with other countries.
Tai has extensive experience in trade negotiations, and she also played a key role in the most recent United States-Mexico-Canada Agreement (USMCA).
"Both Tai and Vilsack have an outstanding knowledge of the intricacies of trade, and the value of building meaningful and productive relationships with their peers in Mexico," said FPAA president Lance Jungmeyer. "These nominees will help fulfil the promise of USMCA."
As the new administration begins its preparations for the next four years, the FPAA said supporting nominees who support trade including tackling non-tariff barriers to trade is of great importance.