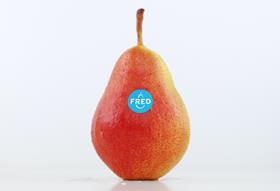 Belgian cooperative BelOrta has announced the addition of the Fred pear to its offering, following a small-scale commercial rollout last season.
A cross between Harrow Sweet and Verdi, Fred is a crunchy bicolour pear with a red blush and a juicy, sweet and slightly sour taste – characteristics appreciated by consumers, according to BelOrta.
"This top pear, the fruit of more than 18 years of testing and perfecting, is distinguished by its unique taste, striking looks and 100-per-cent local origin," the cooperative stated.
According to Laurent De Smedt, the head of BelOrta's topfruit division, 55 tonnes of Fred pears were harvested this season from young trees, with volumes expected to increase each year as the planted area expands.
"This year we targeted the Belgian market," he said. "Small sizes were packed for one retailer and single-layer boxes sent to speciality shops. In the future, Fred will also be sold on our export markets."
To accompany the launch, BelOrta released a video from its orchards to provide an up-close view of this season's Fred crop.