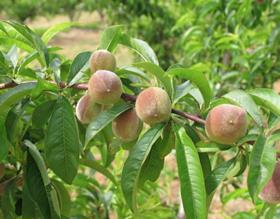 Stonefruit growers in the Drôme department, in the south-east of France, watched on in horror this weekend as a brief but brutal storm pelted the area's peaches, nectarines, apricots and cherries with rain and hailstones.
The onslaught, during peak production, couldn't have come at a worse time for farmers already facing tough trading conditions and low prices.
Some growers have reported that 90 per cent or more of their production has been destroyed, while others, including the French association of producer organisations for peaches and apricots, are still counting the cost.
The French Minister of Agriculture Didier Guillaume pledged to support farmers affected by this 'catastrophic' event.
He said the state would declare anatural emergency in the next two days to trigger insurance payments and assist farmersfacing major losses.
'It's unthinkable that farmers wouldbe forced into bankruptcy because of this," he stated.
Protective nets, a sizeable investment for growers, were reportedly unable to completely withstand the force of the storm in some areas, while greenhouses equally faced damage.