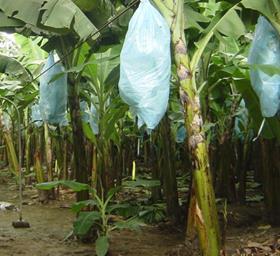 Banana growers in the Philippines are daring to hope for a better season after the arrival of rains in May ended several years of drought brought on by El Niño weather patterns.
The rains should finally set plantations on the road to recovery after typhoon Bopha laid waste to swathes of them in 2012. New plantings, to replace those destroyed, had failed to grow due to the dry conditions, sources said.
Head of the Philippine banana growers' association (PBGEA) Stephen Antig said banana prospects are finally looking up after possibly the worst period on record for the industry, which has also had to contend with the spread of Panama disease and attacks by Communist insurgents in the southern island of Mindanao.
"The situation last March was really bad. However, rain came in May and hopefully we are now on our way to recovery from the El Niño," Antig told Fruitnet.
Philippine banana exports plummeted by over US$500m in 2015, according to PBGEA figures. And production from within the association between January and June this year was down by 14 per cent compared to last. Grower losses outside the PBGEA are likely to be much higher, however, because few have irrigation systems on their farms. Though this could be about to change, said Antig.
"With the regularity of the El Niño, chances are the majority of the growers will now consider investing in irrigation systems if they can afford it," he said.
Progress is being made on all other fronts too, Antig added. Panama-disease-resistant varieties are continuously being identified, successfully produced and exported.
Meanwhile, peace talks with insurgents in Mindanao are advancing, he said, and the PBGEA is optimistic that an accord will eventually be reached so further banana developments in the area can be made.
"As far as the market is concerned, I believe importers are buying from other sources because of the low volume they have been getting from the Philippines," said Antig. "Once we recover from the effects of the El Nino, I am sure we will be able to serve their requirements. In fact, some of our members are expanding to serve some growing markets.
"All told, I believe the Philippine banana industry is still sunny," Antig added. "Issues and concerns are being addressed, and we have confidence that the Philippine's new administration will be supportive of this industry which has contributed a lot to the economy, most especially of Mindanao, by providing employment to thousands of individuals."